If you are looking for Lin Medlin's legal website, please see www.linmedlinlaw.com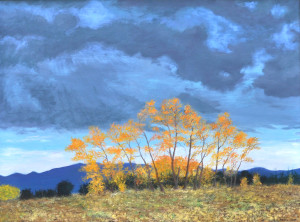 Welcome to my painting website.  My most recent paintings are included on the New Paintings page, and include scenes of the villages of Ushguli, which are in a breathtaking region of the Republic of Georgia called Upper Svaneti.
In November of 2013 I began working on a series of landscapes of the Rio Grande and Pecos Canyons, which are included on the Rio Grande Paintings page.
The work shown on this page, Colorado Trees, was on the invitation of a show, "Lin Medlin: Landscapes," which ran from September 14 to October 21, 2013 at the former and much missed Steve Paul Gallery, 2814 Main Street #101, Dallas.  That show included 12 landscapes from  Colorado, that can all be seen on the Colorado Paintings page of this website. A number of earlier paintings were also in the show.  Some of these, along with many additional works,  can be seen on the Other Paintings page, where you'll see landscapes from Crete, Cornwall, France, and other locations.
Thanks for taking a look.
Lin Medlin