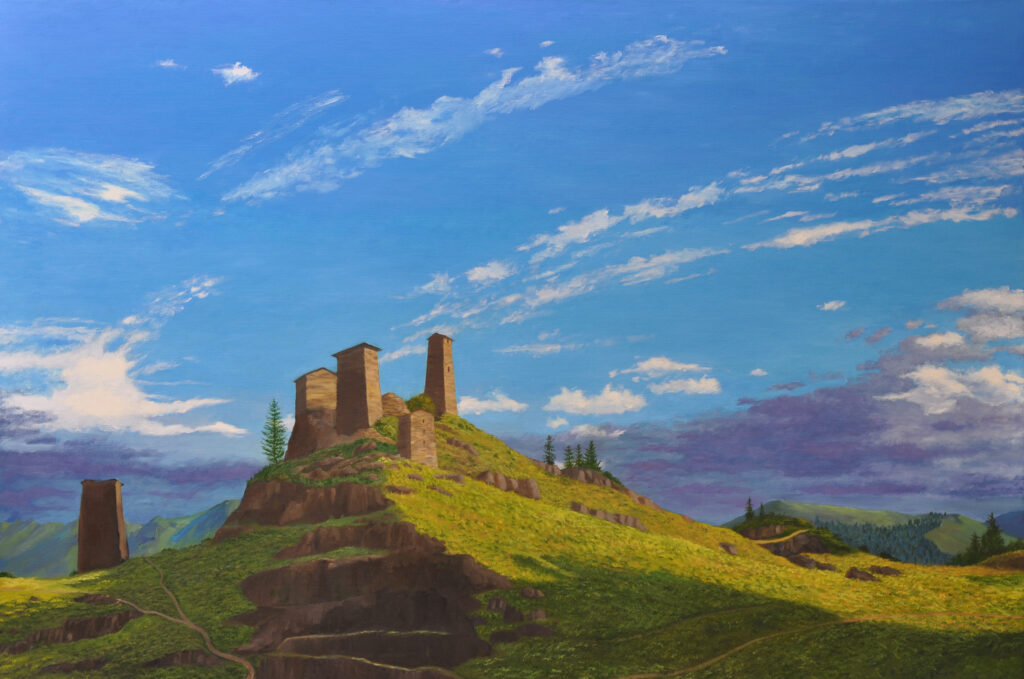 Welcome to my painting website. My next solo show, Stillness and Color: The Landscapes of Lin Medlin, will be at the Strata Gallery in Santa Fe, running from October 19 thru Nov. 6, 2021, with the reception on October 22, 2021 from 5 to 7pm. Some of the paintings that will be in that show can be seen by clicking on the Strata Gallery Show on the menu above.
In August and September of 2019 I was fortunate enough to be in A Conversation: Landscape Painting as Movement at Rest, a three person show with two extraordinary painters, Mary Vernon and Barnaby Fitzgerald. You can see the paintings in that show, by clicking on "The Bath House Show" on the menu. Please contact me if you would like one of the lovely printed catalogues from the show.
The internationally recognized poet, scholar, and Nobel Prize for Literature nominee Frederick Turner wrote a review of the 2019 show for Glass Tire, which reviews Texas Visual Art. The review's first sentence reads: "Three leading Dallas artists, Barnaby Fitzgerald, Lin Medlin, and Mary Vernon, have put together at the Bath House . . . a show that is shockingly beautiful." Turner then explains why he considers its beauty "shocking."
Other paintings from 2019, as well as some of my most recent work from 2020 and 2021, can be seen by clicking on "Other New Paintings."
In a previous solo show that ran from August 21 to September 22, 2017 at Brookhaven College, I presented five paintings of views from the Republic of Georgia, among other paintings. If you click on "Brookhaven Show" on the menu above, you will be taken to images of all the paintings in that show. I discuss the exhibition at "Statement About the Brookhaven Show."
From November of 2013 through 2014, I worked on a series of landscapes of the Rio Grande and Pecos Canyons, two of which were in the Brookhaven Show, and the rest of which are included at "Rio Grande Paintings."
Twelve of the paintings on the Colorado Trees page were in a show, "Lin Medlin: Landscapes," which ran from September 14 to October 21, 2013 at Steve Paul's former and much missed gallery in Deep Ellum. A number of earlier paintings were also in the show. Some of these, along with many additional works, can be seen on the Other Paintings page, where you'll see landscapes from Crete, Cornwall, France, and other locations.
Thanks for taking a look.
Lin Medlin